Wow so much for me being recommitted. This is a sad and neglected blog. :(
These were just too cute not to share with all of you.
Trying to google a cute varriation of spriz cookies for halloween I came across lots of them that I loved and wanted to try out. Someday right...Here they are. Do you all know what Spritz cookies are? I have a link to Wilton at the bottom that explains it. My grandmother use to make them.
Wilton's recipe
is a good one.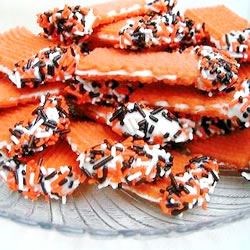 For those of you who haven't seen a cookie press this is what they look like
This is the one I have. I got it at michaels with a 40% off coupon. I think it was originally $12-23. So with the discount its not bad.
Here is a link to the
Press at wiltons site
with a video on how to use it. At here is their
recipe.
It takes a little practice to get the hang of the press but you catch on pretty fast.